What's Happening?
Please contact the Church Office (949-1378 or jgmc@candw.ky) for further information on any of the following notices. Functions take place in the JGMC Sanctuary or Hall unless otherwise noted.

United Church (Cayman Council) Calendar of Events
Special Events and News Including Christmas and Easter Services for 2018

Special Events and News
All are invited to join us to celebrate the birth of Jesus over the Advent and Christmas season 2018. Our
Christmas Day worship service is at 10:00am
on 25th December. All other services and activities take place as follows (click on the picture to enlarge). Scroll down or
click here
for full details of our choir cantata, including the encore on Sunday, 6th January at 7:00pm.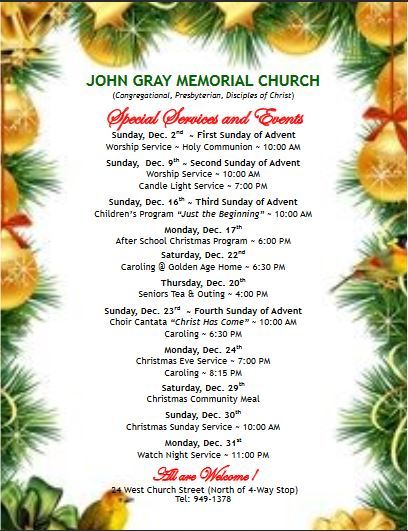 Our 2018 Choir Cantata (click to enlarge):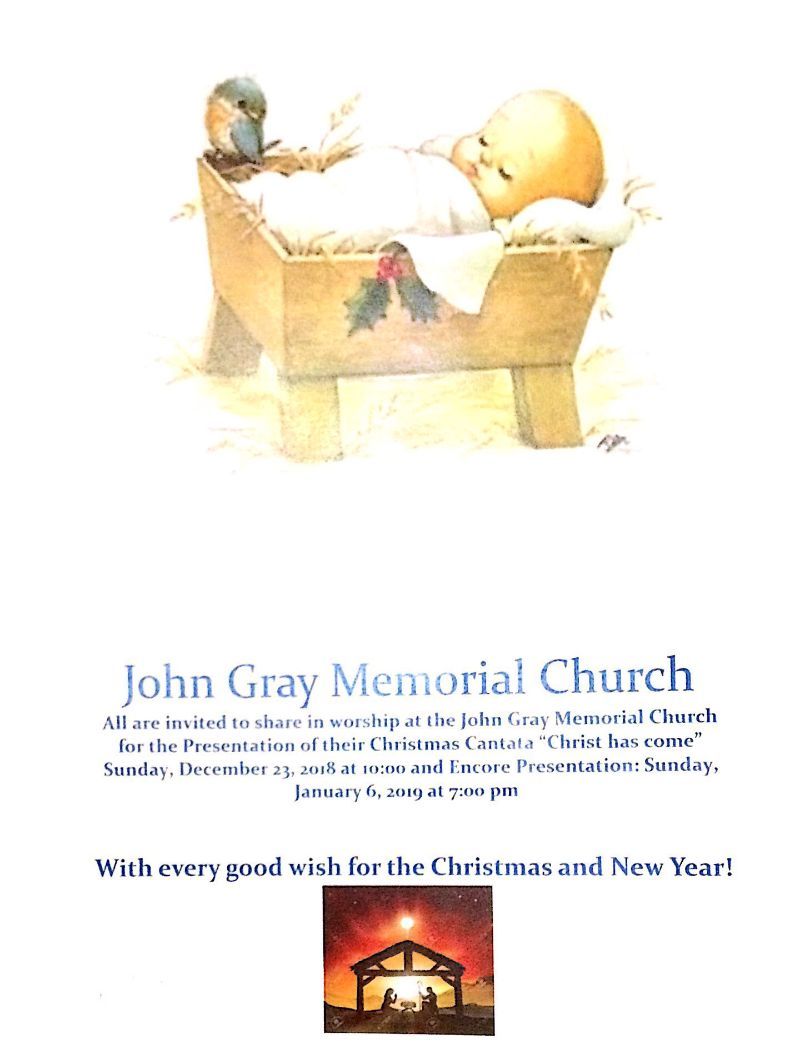 Please join us to celebrate Jesus' death and resurrection, and His saving grace, for Easter 2018: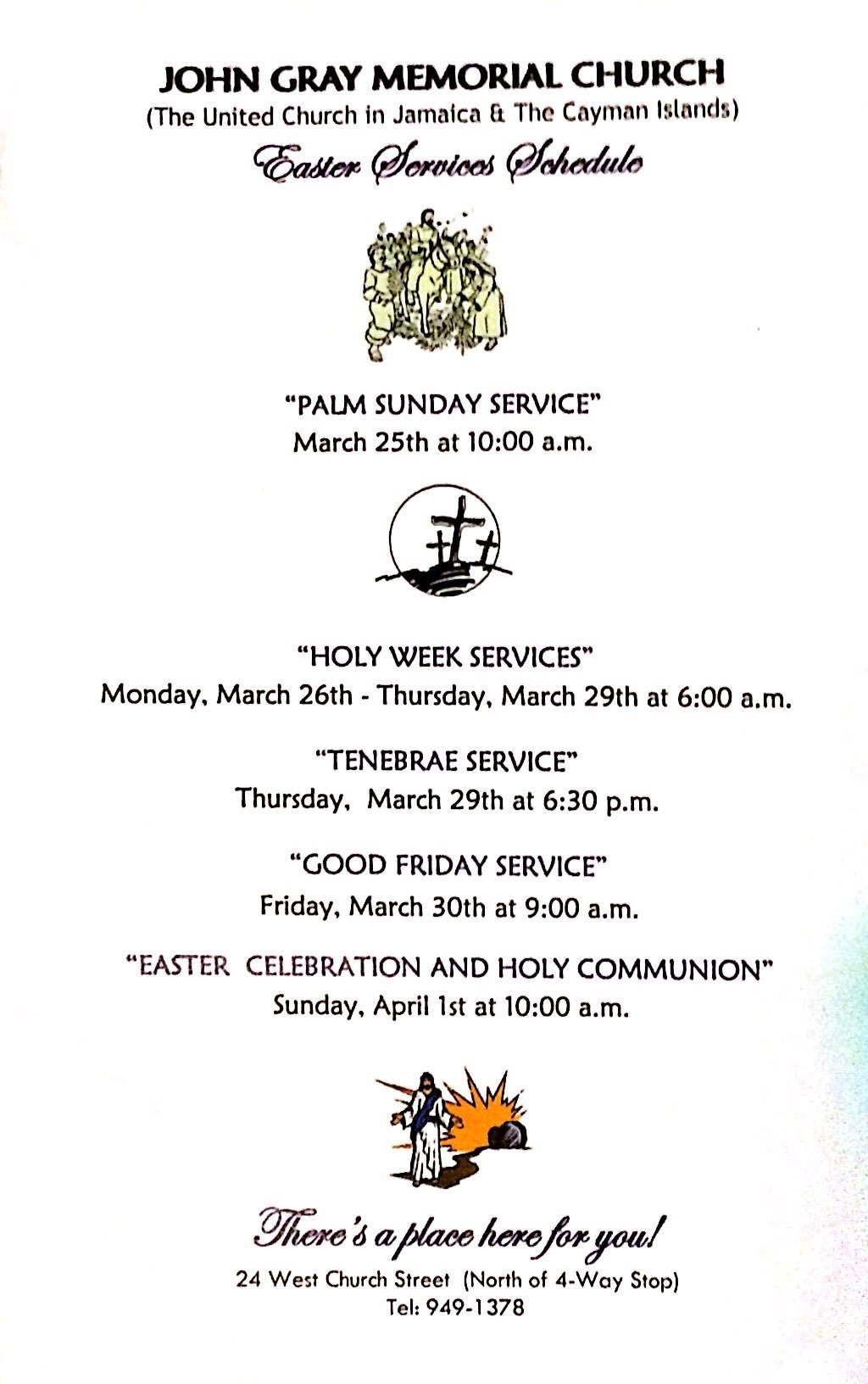 All are welcome to celebrate the birth of Christ with us at JGMC, as below. While there is no service on Christmas Day, all are welcome to attend Elmslie Memorial at 9:00am on Monday, 25th December, 2017. In addition to the special services and missions below, there will be an encore presentation of the Choir cantata on 30th December at 6.30pm.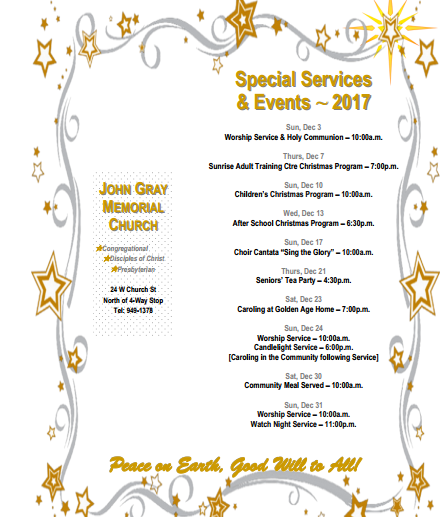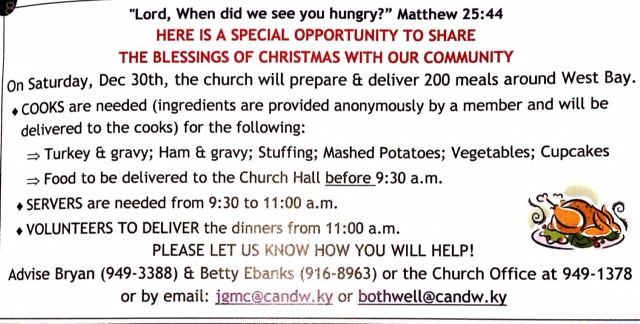 We celebrated 50 years of ministry by our organist and choir director, Mrs. Kathy Jackson. Read the report from the United Church Council
here
.
Listen to Carol Ann Ebanks and Darlene Glidden of the JGMC Women's Fellowship discuss their Mission Outreach to young parents on the Cayman Now television programme, and find out how you can help.
http://cayman27.ky/2017/08/cayman-now-mission-outreach/
Please join us for Holy Week and Easter services as we celebrate the death and resurrectino of our Lord, Jesus Christ. All are welcome.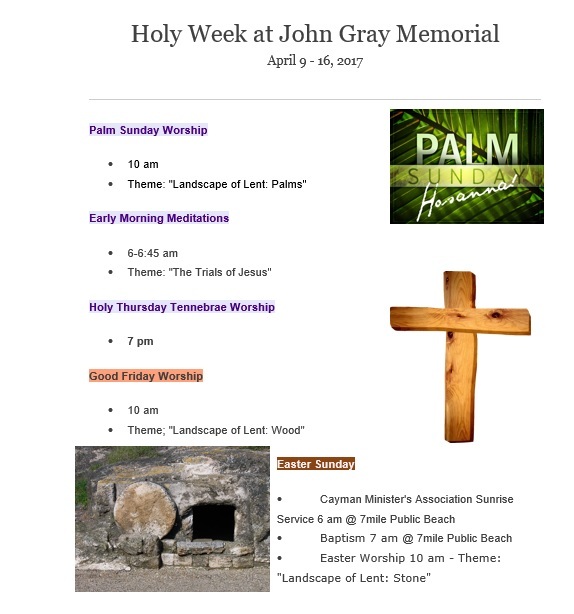 Please join us for Advent and Christmas as we celebrate the birth of our Lord and Saviour, Jesus Christ, and as we take the celebration to others in our community.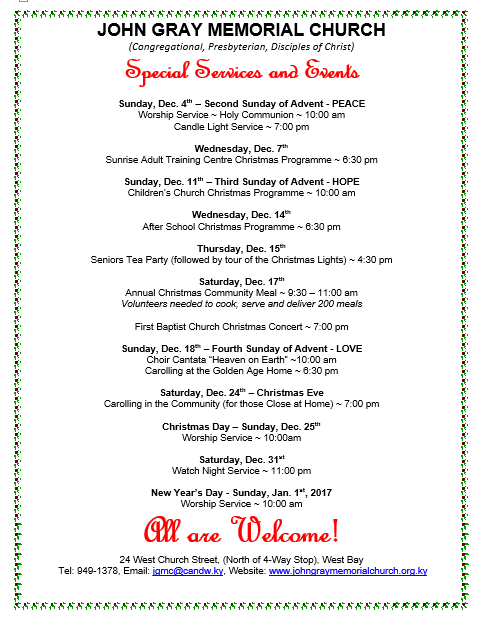 Please join us for
Easter
as we celebrate the death and resurrection of our Lord and Saviour, Jesus Christ!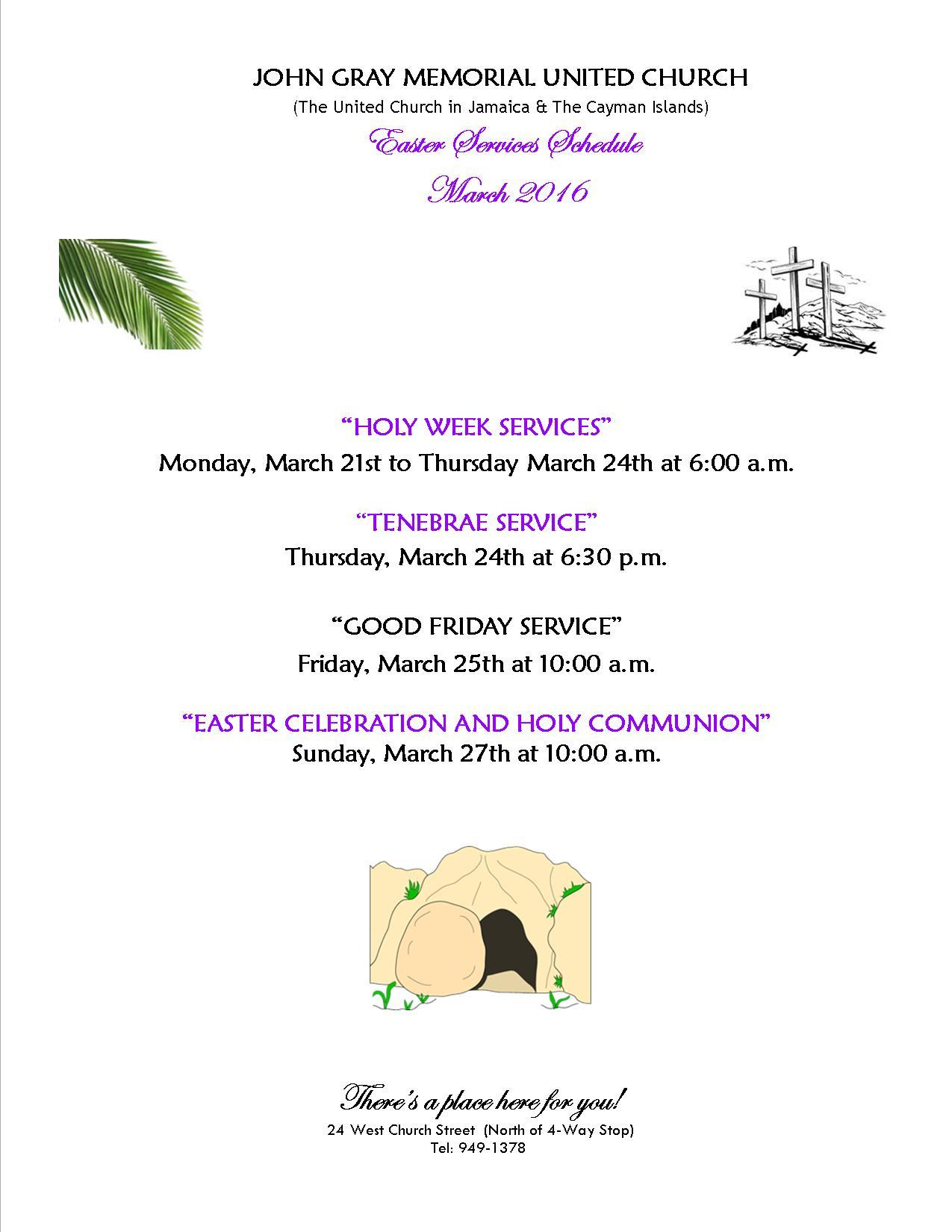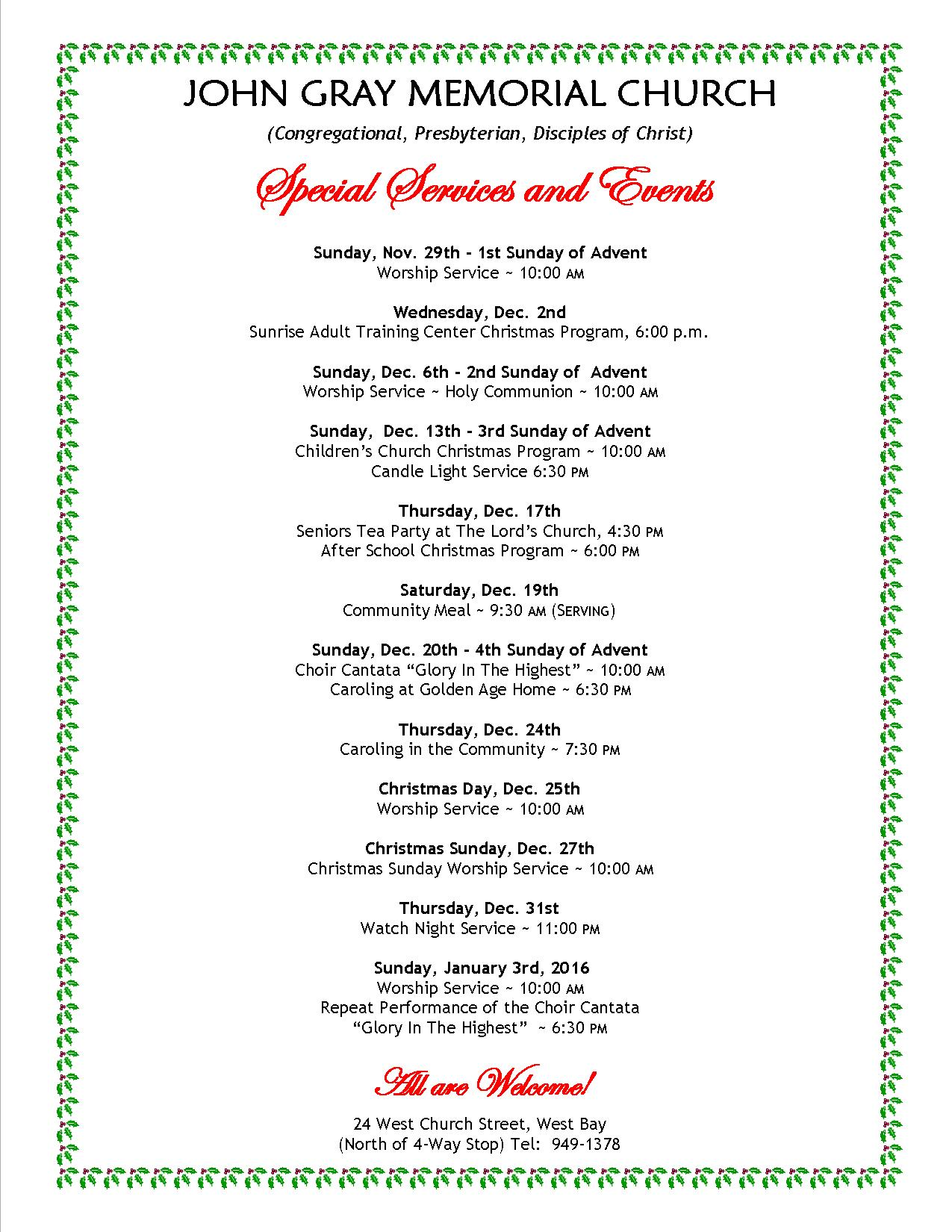 Gigantic Jumble Sale on Saturday, 5th December, 2015 to raise money for our Mission Outreach.

JGMC welcomes you to its
Easter Services
for 2015:
Sunday, 29th March - 10.00 am - Palm Sunday Service
Monday, 30th March - Thursday, 2nd April - 6.00 am - Holy Week Services
Thursday, 2nd April - 6.30 pm - Tenebrae Service
Friday, 3rd April - 10.00 am - Good Friday Service
Sunday, 5th April - 10.00 am - Easter Sunday Service
"For God so loved the world that He gave His only begotten Son, that whosoever believeth in Him should not perish but have everlasting life." - John 3:16

O come, let us adore Him, Christ the Lord! Please join us at our Special Christmas Services and Events for 2014, as listed below. All events take place at JGMC in the Sanctuary or Hall unless noted otherwise. (As always, our regular worship services continue on Sundays at 10.00 am during Advent and Christmas.) Everyone is welcome as we celebrate the birth of our Saviour, Jesus.
Advent Celebrations and Fellowship - Saturday, 29th November at 6.30 pm
Sunrise Adult Training Centre Christmas Programme - Thursday, 4th December at 6.00 pm
Holy Communion/Union Sunday (Celebrating the anniversary of the unions of the Presbyterian, Congregational and Disciples of Christ Churches into the United Church in Jamaica and the Cayman Islands) - Sunday, 7th December at 10.00 am
Children's Church (Sunday School) Christmas Programme - Sunday, 14th December at 10.00 am. Donations to the Cayman Islands Crisis Centre (a shelter for women and children fleeing situations of domestic abuse) will be collected at this service - contact the Church office for more details.
Candle Light Service - Sunday, 14th December at 6.30 pm
After School Programme Christmas Programme - Thursday, 18th December at 6.00 pm
Choir Cantata 'Come and Adore' - Sunday, 21st December at 10.00 am
Caroling at the Golden Age Home - Sunday 21st December - meet at the Home at 6.30 pm (phone the Church office for directions)
Caroling in the Community (to shut-ins and elderly) - Wednesday, 24th December - meet in the JGMC parking lot at 7.30 pm and we will go together by bus.
Christmas Day Worship Service - Thursday, 25th December at 10.00 am
Community Christmas Meal: a special opportunity to share the blessings of Christmas with the community. Saturday, 27th December. Cooks, servers and delivery drivers needed to prepare and deliver approximately 200 meals around West Bay. (All the ingredients are provided anonymously by a member of the congregation and will be delivered to the cooks in advance of the day.) Cooks should deliver food to the Hall before 9.30 am, servers are needed from 9.30 - 11.00 am, deliveries begin at 11.00am. 'Lord, when did we see you hungry?' Matthew 25:44.
Repeat performance of the Choir Cantata 'Come and Adore' - Sunday, 28th December at 6.30 pm
Watch Night Service - Wednesday, 31st December at 11.00 pm
Please be advised that the
Church Office will be closed
on 24th December, 2014 and will
re-open
on 5th January, 2015 at 9.00 am. In case of EMERGENCIES, please call Rev. Tara directly.
The

Communion Service

for August 2014 will be held on Sunday, 17th August at 10.00 am.

Been away for a week or for a year? It's time to get Back to Church!

Back to Church Sunday

takes place on 14th September, 2014. Invite a friend to join us for worship and fellowship at 10.00 am.
Join us for
Choir Fest
on Sunday, 21st September, 2014 when our JGMC choir will be joined by the choir of the Prince of Peace Moravian Church, Miami, Florida. There will be choir training on Saturday, 20th September for the Cayman Islands Region in the JGMC Hall, and the choirs will lead the worship at our Sunday morning service at 10.00 am.
Harvest Sunday
will be 29th September, 2014. The theme for our 10.00 am service is 'Old Time Harvest' so plan your offerings of fruits, vegetabls, jams, preserves, etc. Please also remember your special monetary offering for that Sunday. All are welcome.
Join us for our June Evangelism services - and bring a friend.
In Christ, U-turns Allowed!
Read more
here
.
Nurture/New Members' Classes:
March 2nd, 9th, 16th & 23rd, 2014. Children (up to 13 y.o.): 4.30 pm -5.15 pm; Teenagers & Adults: 5.15 pm - 6.15 pm.
Notice is hereby given of the
Congregational Meeting
to be held on March 16th, 2014, immediately following morning service.
Cayman Keswick
starts Sunday, 2nd March and runs for a week. This year's speaker is Ravi Zacharias. Evening sessions are at 7.00 pm at First Baptist Church on Crewe Rd; Lunchtime sessions are 1.00-2.00 pm at the Family Life Centre on Walkers Rd.
Girls' Brigade is having a
cake sale
on Friday, 7th March, 2014. Order your cake no later than Wed. 5th March.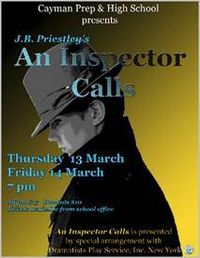 Cayman Prep and High School
proudly presents the play
An Inspector Calls
on Thursday 13th and Friday 14th March in the school hall (Walkers Road) at 7pm. Tickets are available from the
high school office
(Walkers Rd.): $15 adult $10 child/concession. Please note that this play is not suitable for young children as it follows an intense plot.
For more info, click here.
Elmslie Memorial presents
'Let's Stay Together'
Marriage Alpha.
Click here for more info.

Persons interested in
learning to play a musical instrument
, please contact the
Church Office.
Civil Service Appreciation Sunday
- All United Churches in Grand Cayman will host an appreciation service for Government workers on 12th January, 2014. The West Bay service will take place at JGMC at 10:00 am. All current and retired Civil Servants and their families are invited. Everyone is welcome.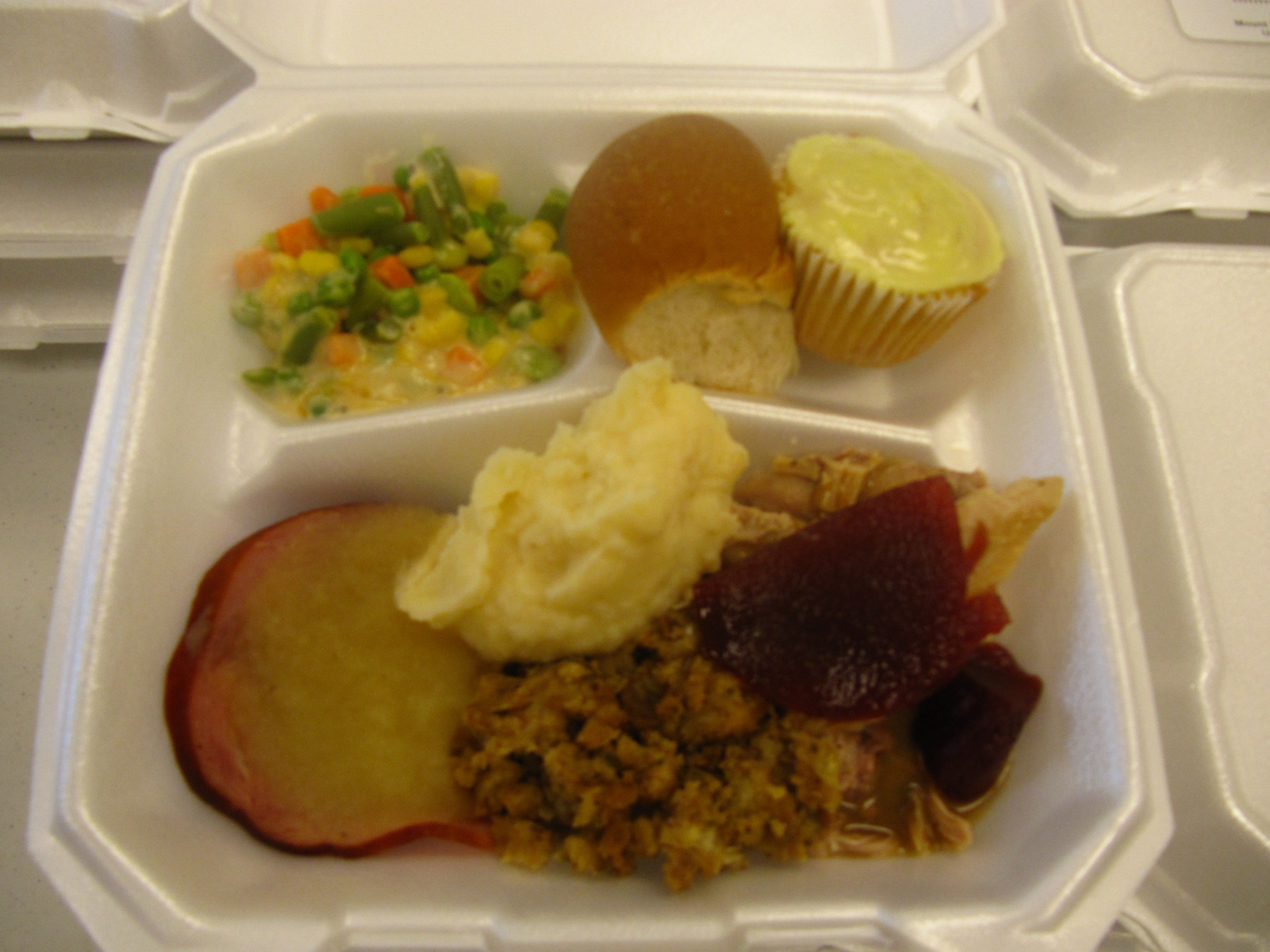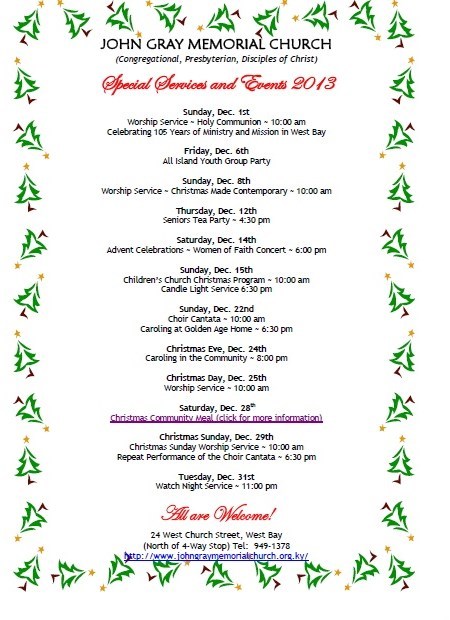 Join us in celebrating the birth of our Saviour in 2013! Click on the list to see the times of our
Christmas
services. All are welcome!
Don't forget to join us for our annual Christmas community missions, including carolling at the Golden Age Home (Sunday before Christmas) and to our shut ins (Christmas Eve). Volunteers are needed for the Community Meal so please let us know if you can help - click on the meal container for more information.

Let your Christmas Gifts DOUBLE the joy!
Click on the United Church logo for information on our Council Christmas giving programme.
Our theme for October 2013 - March 2014 is '
Ministry of Reconciliation
'.
Our November 2013 preaching focus is
Stewardship
.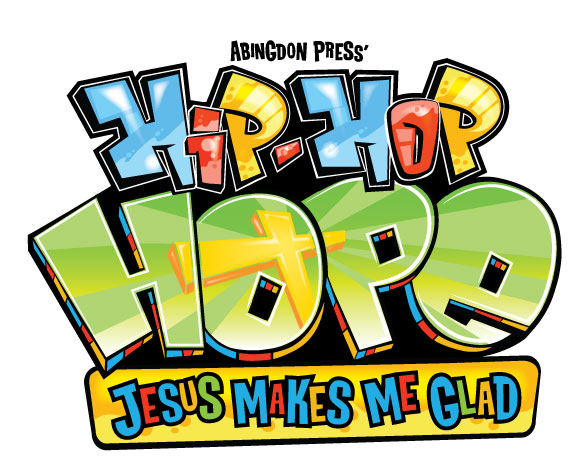 Call for 2013 Camps leaders. Click here for more information.
Click here for Easter Services 2013: Sunday, 24th March - Sunday, 31st March.

Discipleship Emphasis 'A Call to Deeper FAITH' during March 2013
. To re-commit to CHRIST, to re-commit our relationship with Christ, to re-commit to serving Christ and each other.
March 3 - Committed to Christ
March 10 - Committed to the Call and Conduct (Belonging to the Kingdom)
March 17 - Committed to the Great Commission
March 23 - New Members Seminar 2:00-5:00 pm
March 24 - Committed to Communion (Koinonia)
March 29 - Baptism by immersion at Spotts Beach 10:30 am (all United Churches in Grand Cayman)
March 31 - Committed tot he Power of the Resurrection
'My purpose in life is simply to glorify God. We have to be careful that we don't let the pursuit of our life's goals, no matter how important they seem, cause us to lose sight of our purpose.' - Tony Dungy, Quiet Strength
The Children Friendly Church - a workshop
for minsiters, congregational elders/leaders, and children's ministry workers in the UCJCI in the Cayman Region - Thursday, March 7, 2013, 6:00-8:30 pm at Savannah United Church. Workshop Facilitator: Jill Kayser is a Kids Friendly Coach and team leader, from the Presbyterian Church of Aotearoa New Zealand.
Elmslie Memorial United Church -
Mission Weekend Youth Night
, hosted by their youth, at Elmslie Church Hall on Friday, March 15, 2013 at 7:00 pm. Guest Mission Speaker will be Mr. Paul Buford.
Bible Study - new season starting the week beginning 17th February, 2013.
Please contact the Church Office for a home group near you. These studies are interactive and all are welcome. One group recently made a fruit salad as part of their study - here are the results!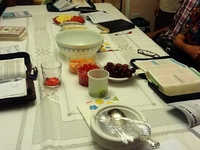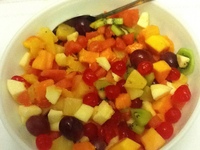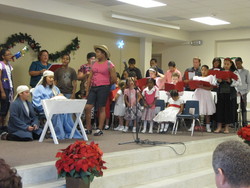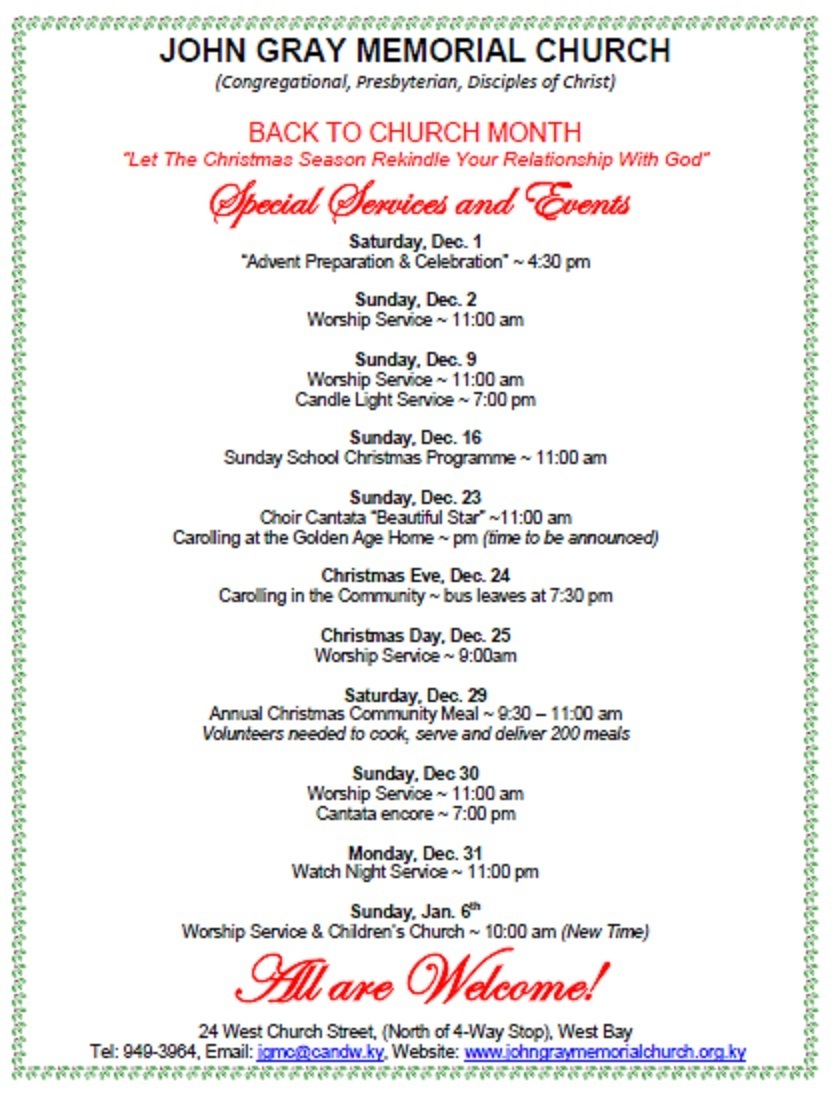 John Gray Memorial Church wishes everyone a blessed, happy and safe Christmas and New Year.
Let the
Christmas
season rekindle your relationsh
i
p with God!
For our special seasonal services, click
here
or on the image at left. We would love to see you - bring your family and friends.
You're invited to An Intergenerational Event to Introduce Advent: Preparing for Christmas (with an International Flavour). Please join us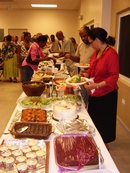 for our
Advent Preparation & Celebration
on Saturday, December 1st when we gather as a faith community and begin Advent preparations that will remind us throughout the season that we are preparing to celebrate the coming of the Christ Child. There will be activities for families to enjoy together. If you are able, please bring a dish for our
potluck supper
. We will gather in the Church Hall at 4:30 p.m. and look forward to seeing each of you there.
The focus for Sunday morning Worship for the month of November 2012 is
Faithful Followers
.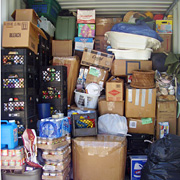 Jumble Sale
- The Mission Outreach Committee is planning a jumble sale on Saturday, 24th November, 2012 starting at 6:30am behind the Hall. This will raise money for several small Church projects. We are asking everyone to get on board to help with: donating items; collecting, sorting and pricing items on Friday from 5:30pm; selling items on Saturday morning; packing up and delivering remaining items to NCVO/Red Cross immediately after the sale.
Please note that due to storage space we will be unable to accept items before Friday.
Special Seniors Felloswhip
- The bus will leave the car park at 3:45 pm to visit the National Gallery on November 28, 2012 to view the exhibition 'Now and Then'.
Home Group Bible Study
- Be sure to join a group near you!
For September-December 2012, Home Groups take place at the following times. Contact the Church Office for more information.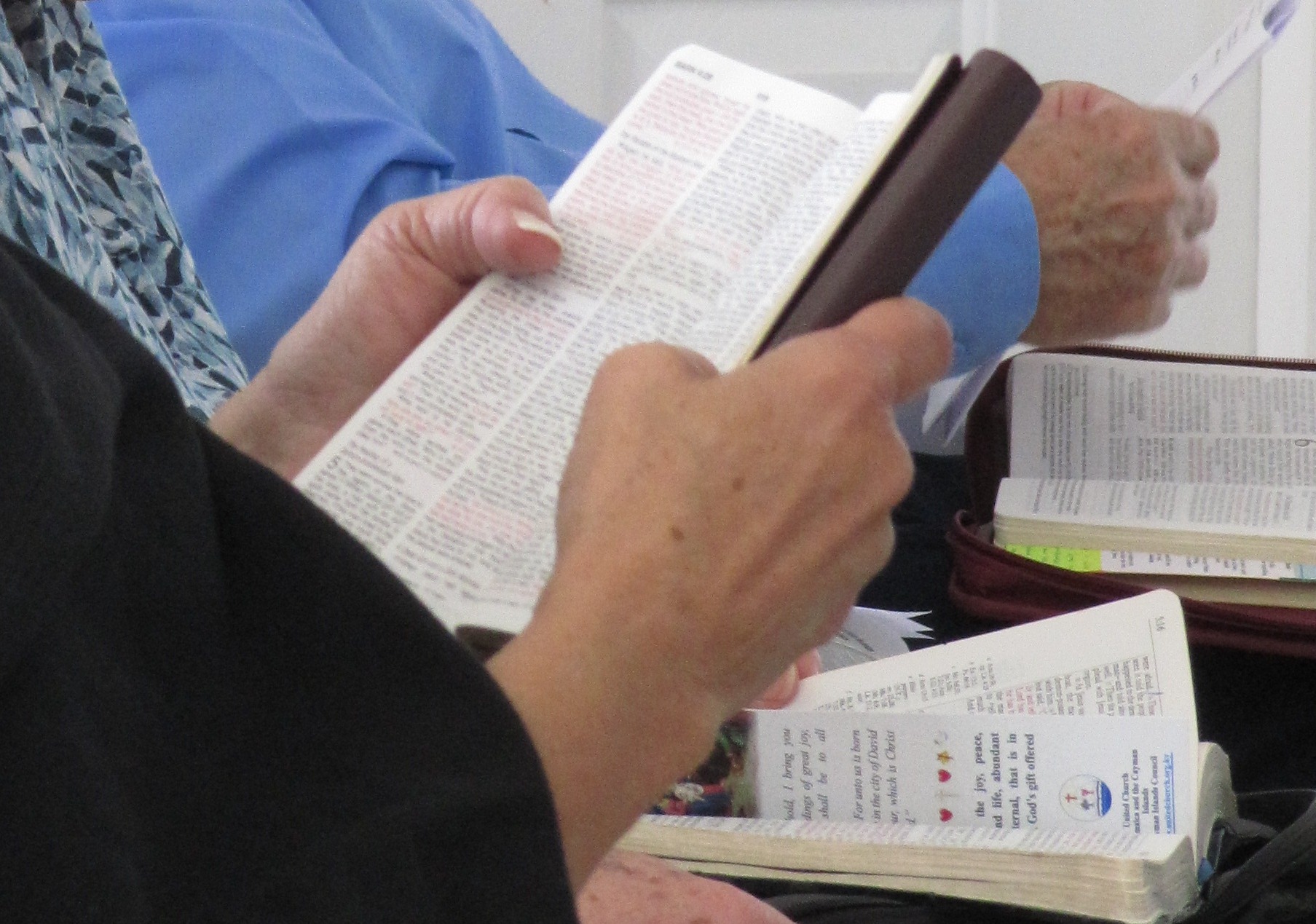 Tuesdays 10:00am - Batabano
Tuesdays 12:00 noon - Britannia Grill
Wednesdays 6:30pm - Church Hall
Wednesdays 7:00pm - Mt. Pleasant OR The Shores OR Boltins
Thursdays 7:00pm - Patrick's Island
Sundays 5:00pm - Church Hall (Youth Group)
Every Sunday is 'Back to Church Sunday'!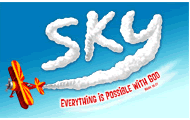 Summer is fast approaching, and with summer comes JGMC's annual VBS. This year's theme is "Sky: Everything is Possible With God". It takes place on 16th -20th July in the Hall - mornings for children and evenings for teens. To register as a volunteer or to register your child as a participant, please go to https://www.groupvbspro.com/vbs/ez/jgmc2012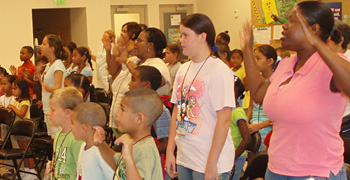 It's camp time again and we are excited about this year's programme of activities!

So if your children (or you!) are between the ages of 8-18 and eager for a summer of fun,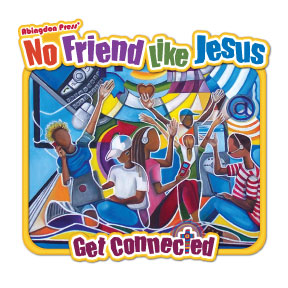 bible learning, island activities and worship then join us! Remember for $120 you get full accommodation (in a/c), 3 meals a day, road activities, leadership/ guidance, bible adventures, sports and games and so much more!

Visit us at www.unitedchurch.org.ky/camps for more info and camp registration forms and documents.

Don't wait!!!! Spaces are filling up!!!! If you have additional questions you can call Casandra at 525-3817 or Noel at 927-0565. Deadline for applications is 3 July 2012.

Alpha begins in May. Click here.

JGMC home groups/small group Bible studies - starting week of Feb 6, 2012 - Topic - Growing Out: From Disciples to Disciplers; Season 1: Growing In Jesus

In this 13-week "season", you'll: Learn how to uncover and share your faith story;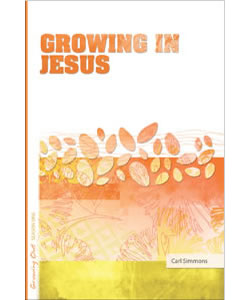 Develop your relationship with God through spiritual disciplines including quiet time, prayer, worship and Bible study; Discover how the Holy Spirit works through our daily lives and equips us to face spiritual battles; Explore how to see others as Jesus does—and learn what "loving your enemies" really means; Understand how God is shaping you and where he's leading you next. NB - no Bible study during Holy Week.

There's sure to be a group that is just right for you, so contact the Church Office for more info:

Tuesdays at 10 a.m- Batabano
Tuesdays at 12:00 noon—Britannia Grill (near the Hyatt hotel)
Tuesdays at 7:00 p.m - Batabano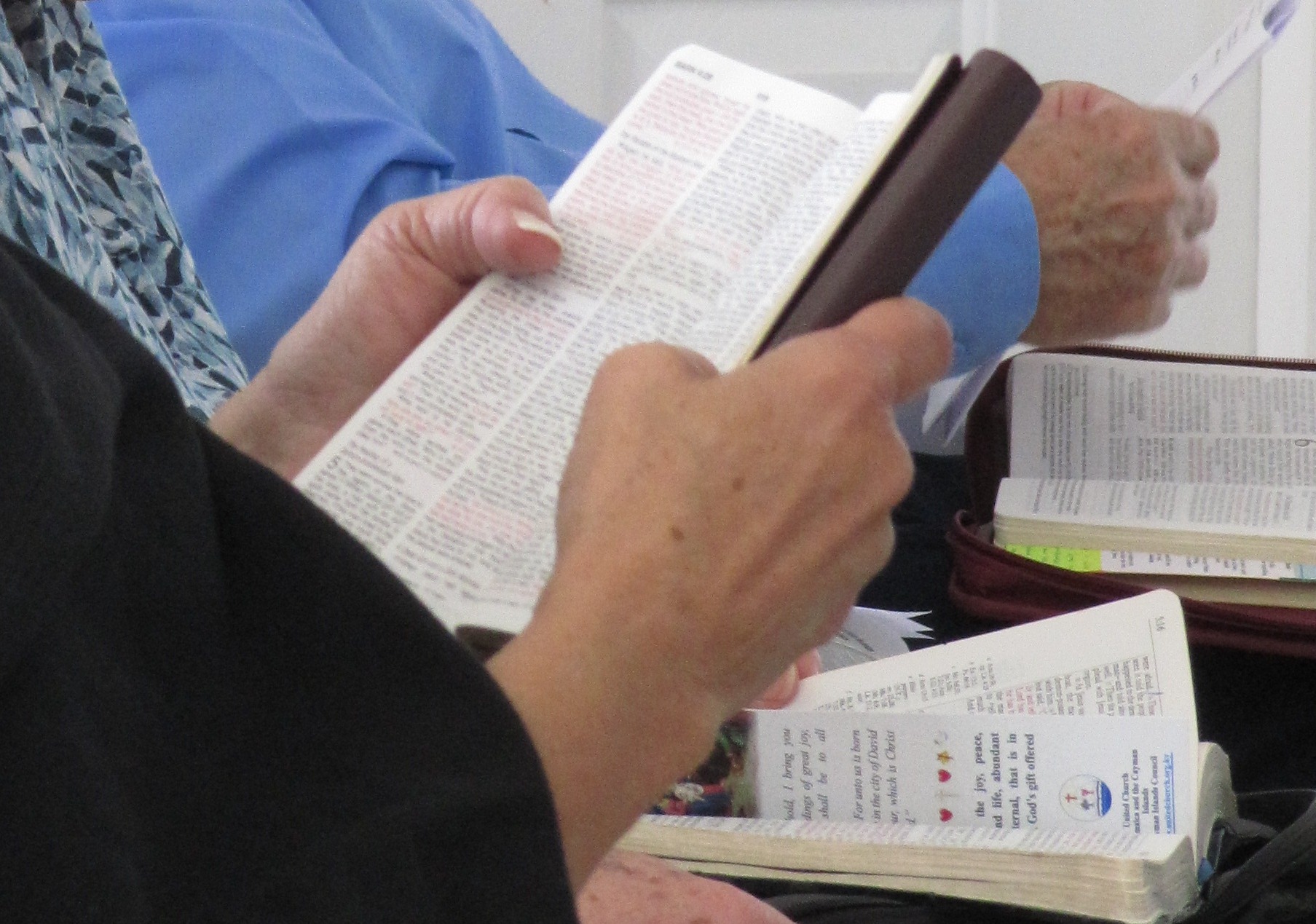 Wednesdays at 6:30 p.m.— Snug Harbour
Wednesdays at 7:00 p.m.— Mt. Pleasant
Wednesdays at 7:00 p.m.—Batabano
Wednesdays at 7:00 p.m.—Boltins
Thursdays at 7:00 p.m. - Patrick's Island
Sundays 5—6 p.m.—YOUTH GROUP

Youth Band auditions are taking place - for instrumentalists and vocalists. For now, auditions are limited to those who already know how to play the instrument they are auditioning for but lessons for those wanting to learn will begin in February. During the audition, you will play through 2 music charts (from a choie of 10) with Mr. Ethridge - don't worry, we're not expecting perfection! If you are interested, contact Mr. Ethridge via the Church Office for more information.

Job Loss Support Group - this is a ministry of our sister congregation, Elmslie Memorial Church, and is held every Tuesday at 5:30pm in their Hall. It is facilitated by Cathy Gomez, JP, MSC, MA, pastoral counsellor and author of 'Coping with Sudden Job Loss'. No fees involved! Light refreshments served. Call 916-6581 for more information.
June 2012 was Family Month
Sunday, June 3rd, 11:00 a.m. - Celebrating the family / Queen's Diamond Jubilee.
Sunday, June 10th – 11:00 a.m. Regular Service and at 5:00 p.m., - New Members/Nurture Class.
Sunday, June 17th – 11:00 a.m. - FAMILY SUNDAY / FATHER'S DAY.
Sunday, June 24th – 11:00 a.m. - Celebrating our Church Family.


Come, now is the time to Worship; Come, now is the time to praise our GodCounc

il



Sports Day

took place on 31st March - photos and videos of this family fun day are up on the JGMC Facebook page.



Marriage Alpha started on Monday, 13th February - Let's Stay Together! It waspresented by Elmslie Memorial Church in conjunction with Margaritaville. Couples enjoyed a meal at a private table along with meaningful conversation. Click on the photo for more information.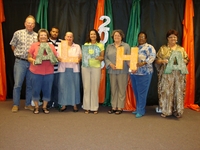 Intercultural Sunday
- 26th February, 2012 - we came to worship God with people from around the world. Everyone went into the Hall afterwards for fellowship as we sampled each other's national dishes.
The annual
World Day of Prayer
service took place on Friday, 2nd March, 2012. The service this year was written by the women of Malaysia. Read all about it in
The Caymanian Compass
. In the evening, Women's Fellowship members shared the themes with the youth group using craft.
The annual
Ash Wednesday Prayer Summit
took place on 22nd February, 2012 from 7:30-10:30 am on the beautiful and peaceful grounds of Prospect Youth Centre. United Church congregants from across Grand Cayman joined together to refocus, reflect and be refreshed. JGMC was well-represented with Mr. Ormand Williams, a United Church Lay Pastor leading the opening worship and sharing the message and Mr. Gavin Lothian, Sunday School Teacher, giving a prayer for families and representing the youth.
Our choir's 2011
Christmas Cantata
encore was featured in a recent iNews article. Read it
here
.
"Lord, when did we see you hungry?" Matthew 25:44. The
Annual Community Christmas Meal
- a special opportunity to share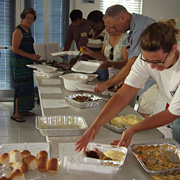 the blessings of Christmas with the wider community took place on Tuesday, 27th December, 2011. The church prepared and delivered over 177 meals - with turkey, ham and all the fixings - around West Bay. The food is generously provided by an anonymous donor year after year and dozens of church members participate by cooking, serving and delivering the meals to those in need.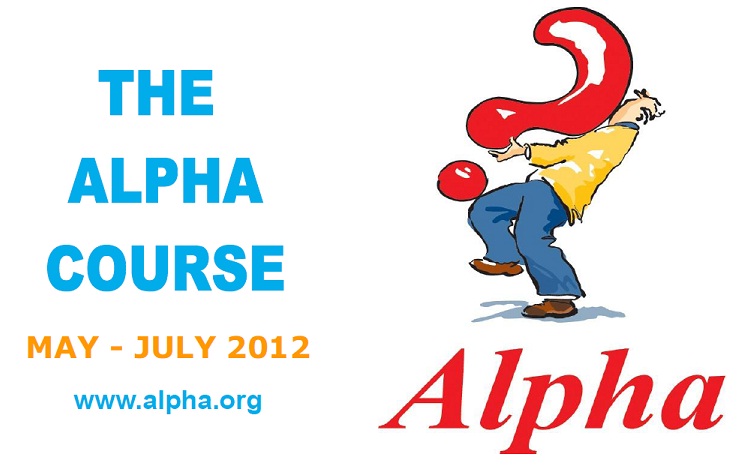 ALPHA youth programme
took place during the Christmas academic term 2011. Both young people and leaders found the experience rewarding. Also
Global Alpha Training (GAT) Conference
took place November 4 -6, 2011 at Savannah United Church. For more information, click here.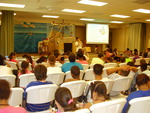 VBS 2011 - PandaMania
: Where God is wild about you! (Psalm 139) took place July 18-22. Well over 100 children and teens were ministered to each day. We wish to thank all our volunteers for their help in so many areas. Keep up the fun of VBS with videos, music and games at
4EveryBuddy.com
Annual Prayer Summit: "Christ, the Source of Healing and Hope"
Ash Wednesday, 9th March, 2011 7:30am-10:00am at the Prospect Youth Centre, 292 Prospect Point Rd.
Come to refocus and be renewed by a time of prayerful communion with God. Let us join our Church brothers and sisters from across Cayman in this beautiful place.
Earth Day Roadside Cleanup
- Saturday, 2nd April, 2011 7am-10am. JGMC picked up garbage from the beach at the Head of Barcus (Barkers). See the difference we made
here
!
Napaykullayki, Mari mari lamgnem, Iorana, Buenas tardes - "Greetings!" from four regions of Chile. This year's World Day of Prayer Service, which was written by Christians in Chile this year, was led by the Women's Fellowship - Friday, 4th March, 2011 at 7:00 pm. Theme: "How many loaves have you?" Click here for a report, including extracts from the service.


Shuffleboard Tournament click here for photos. This was held in February and was hosted by the Men's Fellowship.

Our Annual Youth Christmas Pageant, held about a week before Christmas, was excellent! Our children and youth took over the whole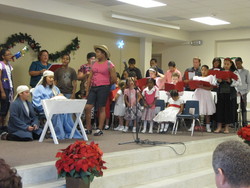 service and took us on an adventure in Bethlehem. Well done!


Visit from Jim & Karla
Jim and Karla Smith participated in our Worship on Sunday, 15th August, 2010 to share about their work as missionaries with the Wycliffe Bible Translation Ministry. A pot-luck lunch followed in the Church Hall.
For more information on Wycliffe, see our Links page.

VBS 2010
We went on a 'High Seas Expidition' through the Book of Acts and Psalm 119 during 2010. Most days saw us ministering to about 100 children in the morning and over twenty teens in the evening. Thanks to all those who helped make this a truly wonderful experience!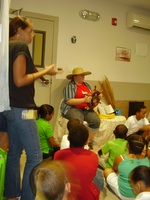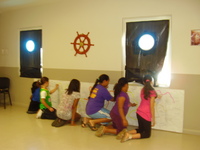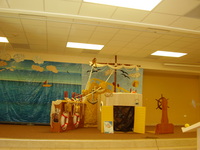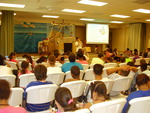 ALPHA Programme held in May/June 2010

John Gray Memorial hosted it's first Alpha course in the early summer in conjunction with our sister congregations in Savannah and Elmslie (George Town). Those who attended found it most elucidating and refreshing, and highly recommend it. The next course starts on 10th May, 2011 (read more here).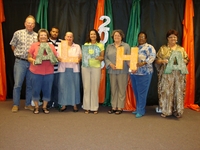 Some members of the West Bay group at the week-end retreat.

'So you think you've got talent?'
We saw a range of talent from across the congregation: singing, poetry, martial arts, dance, etc. A wonderful time was had by all!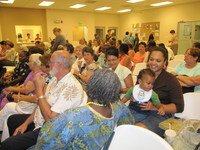 A capacity crowd for the Talent Show.

Two contestants face the judges!
Shuffleboard Tournament (November 2009)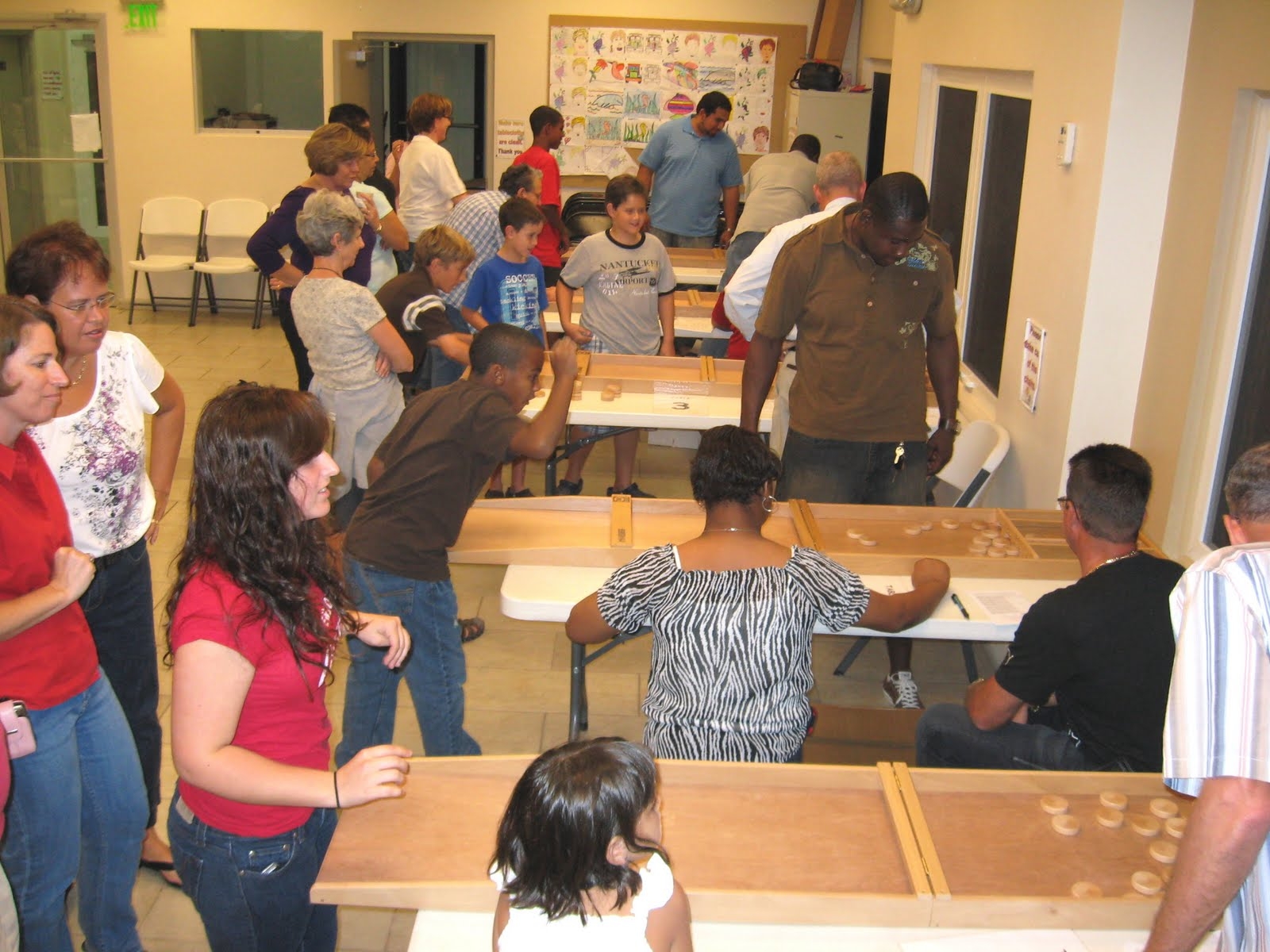 The players.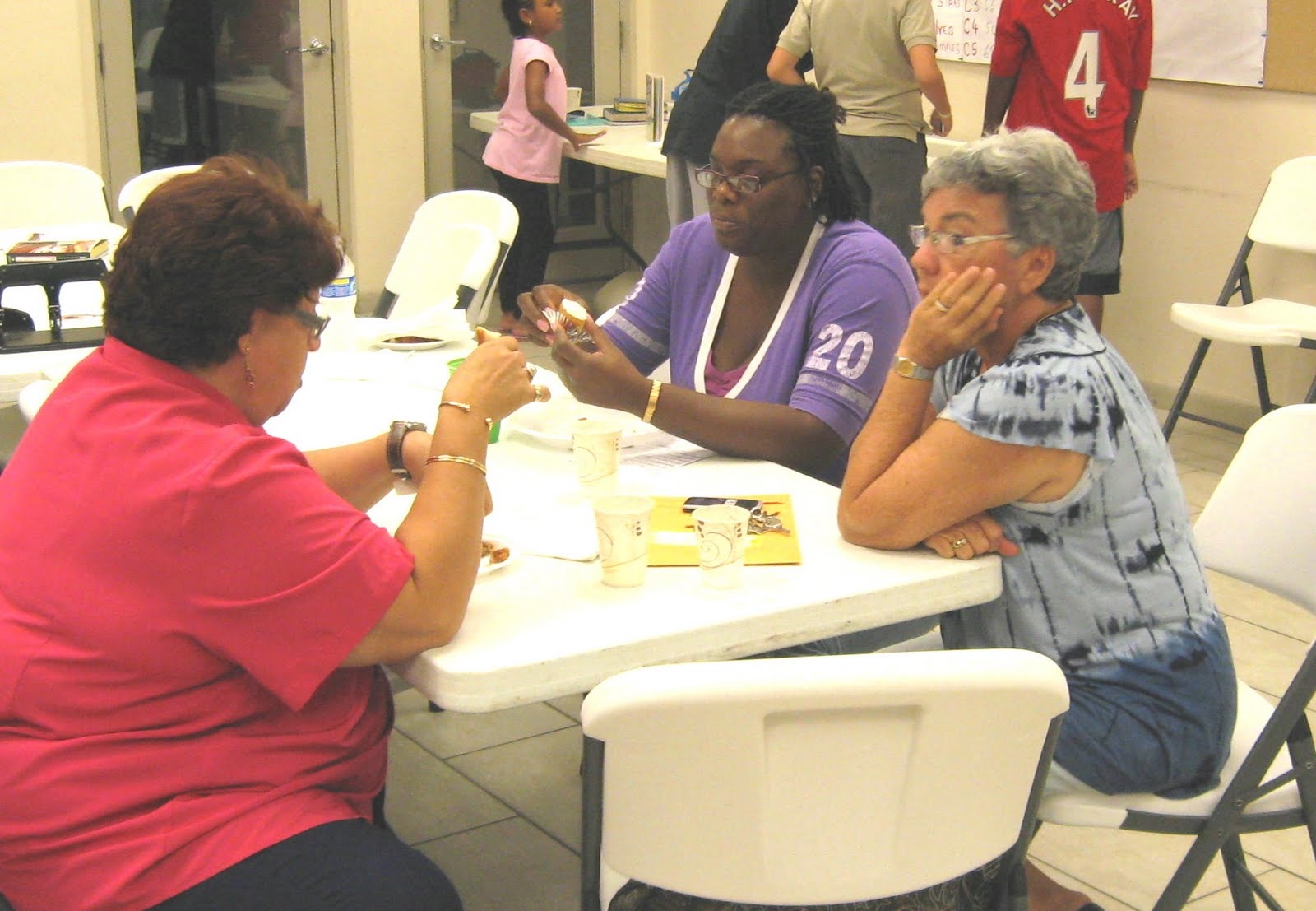 The spectators.